This blog post contains affiliate links (e.g., to Amazon or eBay), which means that if you click on one of the product links and place an order, I'll receive a small commission. This helps support my blog and allows me to continue to create content like this.

Thank you for your support!
 
I have a type "A" personality. I like to have a place for everything and everything in its place! When you live in a small space, organization becomes even more important than those blessed with more ample square footage. Whether my aim has been to efficiently decorate my dorm room (in years past … ahem…), maximize my vertical storage space in a super tiny city apartment, or just prevent clutter and stay organized, here are some of the storage and organization systems I currently utilize. Remember, just because something is called a "bookcase" doesn't mean you have to use it for books!  Some of the best solutions I've come up with to meet my storage needs involve using items in a different way than originally intended (or marketed). And, that's okay! Don't be afraid to think outside the box.
Although I use this in my bathroom, I DO NOT use them in my shower. Instead, I use several of these to keep my hair and beauty products (e.g., my beloved S-curl No Drip Moisturizer) at hand. I like to keep my current go-to products at the ready so that I am not constantly walking back and forth between my bedroom and bathroom for face wash, hair moisturizer, gel, etc. It just makes life so much more less frustrating. My larger products (or products I don't use every day), I store elsewhere (on a black 4-tier shelf that holds up to 350 lbs). I originally purchased 3M's spice caddy, but it was just too small. This large shower caddy fits my needs much better. I bought several and staggered them on my bathroom wall to create hair product storage, no shelf installation required!
I love my tension pole corner shower organizer. I use it to store my shampoos and concitioners, shower gel, body scrub, etc. I originally found this gem at Bed, Bath, & Beyond. I have the one by Spa Creations in chrome (with the snap down frosted plates). Unfortunately, I don't think they make that version any more. Here are several other options that are similar: (i.) BINO Tension Pole Corner Shower Caddy in nickel, (ii.) Koval Inc. Tub Shower Caddy Bathroom Organizer Tension Pole with Baskets (available in black, white, or chrome), (iii.) Yosoo 3 Tier Triangular Shower Tension Corner Pole Caddy Shelf Storage, (iv.) InterDesign York Tension Caddy (available in bronze, matte black, pearl white, satin, and silver), (v.) Zenna Tension Corner Pole Caddy (available in bronze, oil rubbed bronze, nickel, brushed nicked, and nickel and bamboo), and (vi.) CREATEASY Tension Shower Caddy .
I absolutely adore my Houseables 7-drawer Acrylic Makeup Organizer. It comes with a top tray that I removed and use to store my essential oils. I originally purchased mine for $180 two years ago, and now it sells for about $70 less! I'm so jealous. I store large bars of soap in my bottom drawer, travel-sized products and samples in my sixth drawer, eye shadows, blush, and various palettes in my fourth and fifth drawers, concealer, foundation, and setting powders in my second and third drawers, and tools and other accessories in my top drawer. It has been a truly invaluable investment in terms of keeping my makeup and beauty products organized, all in one place, and easy to see all at the same time! It was expensive, but I have NO regrets!
Inside of my 7-drawer Acrylic Makeup Organizer, I have other organizational systems. If you have a huge compact collection, you will love Alegory's acrylic compact organizer. I use this for my additional face powders (i.e., my contouring powders, eye brow powders, bronzers, and other loose powders). I also utilize Alegory's eye shadow organizers for my large mineral eye shadow collection.
I use a 4-tier shelf by Whitmor to store my larger beauty items (i.e., my foot tub or salon-sized hair products) and to house more delicate items (i.e., my Chanel, Prada, and Sean John perfume stash), or keep items I use infrequently (i.e., my first aid kit or other personal care items) out of the way/sight. Because I live in such a small space, to maximize storage, I even use my top shelf to house seasonal linens. I added small and medium-sized wire baskets will chalkboard tags to further streamline my storage.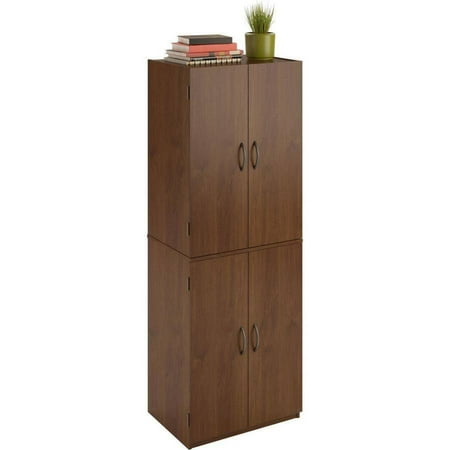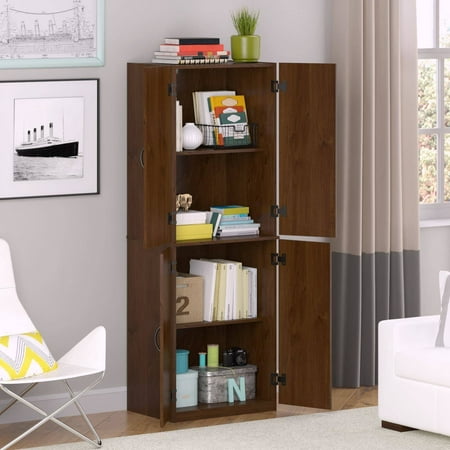 I purchased Mainstays Storage Cabinet in Northfield Alder to use as part linen cabinet and part storage to house my larger supply of oils and butters for my DIY hair and beauty projects.  It serves my multi-purpose needs perfectly.